Barrel-aged soy sauce, for future generations
Until the Edo Period (1600-1868), all fermented condiments were aged in kioke (wooden barrels). The foundation of flavor comes from the blessing of nature's microorganisms. Time has seen a decrease of kioke aging for cost-cutting reasons. Fearing this part of traditional Japanese culture would go extinct if nothing was done, we started the "Kioke Craftsmen Revival Project."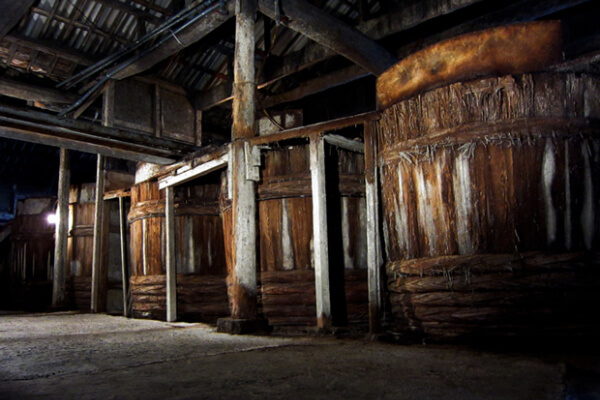 Can't use tanks (plastic or otherwise)
Washoku (Japanese cooking) has been designated a UNESCO Intangible Cultural Heritage. The base seasonings in Japanese cooking are fermented condiments like soy sauce, miso, vinegar, mirin, and sake. They bring out the flavor of ingredients, and develop a deeper level of flavor in seasonal foods.

Until the Edo Period, these condiments were all aged in kioke (wooden barrels). The condiments are produced by "the power of microbes" like lactobacillus and yeast fungi. Created by microbes, not by man.

So the job of the human (artisan brewer) is to nurture an environment conducive to these microbes. In other words, if the most ideal environment for these microbes is created in the brewery, they will create the most delicious products for us.

The reason why kioke have been used since times past is because these barrels were an entire microbial ecosystem from which we borrow their fermenting powers. Again, the foundation of flavor is created by the microbes, a true blessing of nature. That's why plastic tanks won't work. It has to be wooden barrels.

However, the amount of barrel-aging has decreased over time. The biggest reason is due to cost. The amount of soy sauce and miso naturally fermented in kioke has plummeted to under 1% of the total market share. Only a single company remains in business that manufactures these wooden barrels for fermentation. If nothing is done, this part of traditional Japanese culture will go extinct. Someone must take action.

In 2009, we took out as much credit as financially possible and ordered 9 new kioke from the barrel maker. A lot of thought went into the decision, but time was running out. Upon ordering the barrels, the maker confessed that it was his first order for new soy sauce barrels since World War II.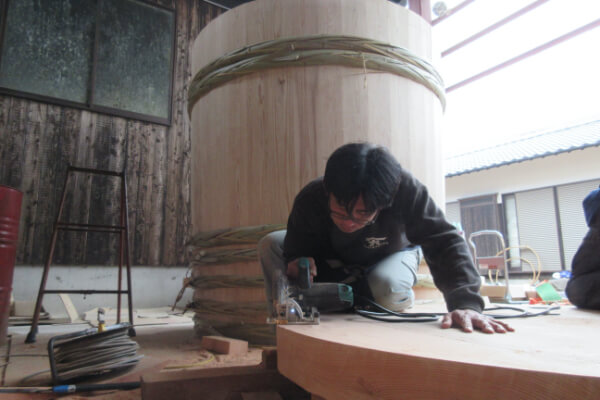 Apprenticing to become barrel makers
After several of the kioke barrels were made, we realized that the extinction of traditional Japanese fermentation culture was only a matter of time. Kioke have a lifespan of 100-150 years. All of the kioke currently in use were built before WWII, and will probably become unusable in about 50 years. When that happens, not only will we be unable to produce authentic barrel-aged soy sauce, but we will also lose the ability to experience the true flavor of soy sauce. The authentic version of the basic condiment that brings out the flavor of ingredients in Japanese cooking would disappear.

Although our generation can still experience this, it'll likely become a "thing of the past" for our children's and grandchildren's generation. Preserving this tradition passed down through the generations means preserving our "memory of taste," connecting future generations to the past generation. That's why we can't let this tradition die here.


To tackle this problem, we started the "Kioke Craftsmen Revival Project" in autumn of 2011. We felt that if we ourselves learned to build the wooden barrels, then our worries would go away. Before asking if we could or couldn't do it, we already knew we were running out of time. It just had to be done. Many around us thought we were crazy. So we took out another loan and ordered three more kioke, and in January of 2012, along with classmates on Shodoshima who were carpenters, we apprenticed under the barrel maker. We hoped to directly learn how to make them through this new order.
Apprenticeship Photos
First time using a plane

Assembling the side planks

Weaving the bamboo hoops

Binding the hoops

Learning about the bottom planks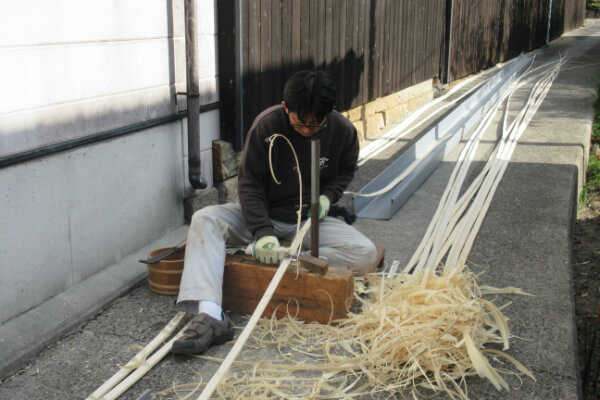 Making hoops from bamboo
After returning to Shodoshima, we repeatedly practiced how to select and harvest bamboo, adjust tools, and weave the bamboo hoops. We also learned about the structure and characteristics of the kioke, how to stop leakage, and the adjustments that need to be made to stop leakage 20-30 years in the future. Almost two years of trial and error, our dreams came true as we finally completed the barrels with our own hands on September 20, 2013.

We used "Yoshino-sugi" cryptomeria wood from Nara Prefecture. A popular wood for boat building from ancient times, its strength comes from its ability to bow against outside pressure. Boats that are entrusted with people's lives. In a way, kioke are like lifeboats, carrying thousands if not millions of living microbes. The barrels are the vessels for these microorganisms to start their journey in life. Yamaroku's Tsuru-bishio is aged for four years, so the microbes in those barrels give us four years on their journey. So we want to use the best materials so that these barrels can be used for as long as possible.


After much trial and error, we decided to use bamboo from nearby forests for the hoops. Many people came to help us with the barrel assembly. One small error can result in a leak, so precise craftsmanship is required, and with the help of our friends, we were finally able to assemble the barrels.

We want to continue to produce soy sauce in barrels built on Shodoshima, by our own hands. We also plan to devote ourselves as barrel makers and build kioke for other soy sauce, miso, and sake brewers who share the same passion. By sharing what we know, we hope to widen our network.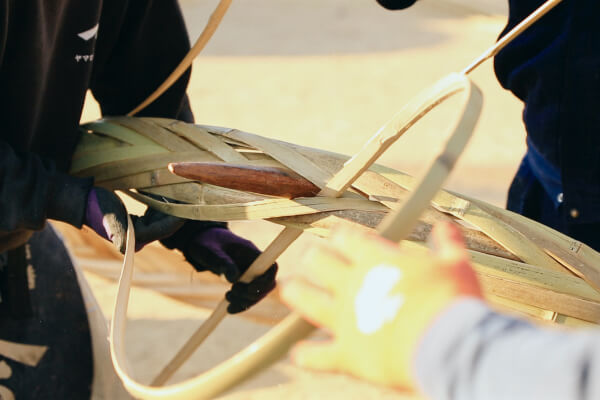 To Make a Barrel
1.Planing the side planks on parallel blocks. Our whole body hurt after this, especially our lower back.

2.Joining side planks with bamboo nails. Very precise work.

3.Going vertical with the side planks

4.Weaving the bamboo hoop. Bamboo from Shodoshima's mountains

5.Binding the barrel. The hoops must be made of bamboo. High salt content in the barrel would quickly corrode stainless steel hoops.

6.So much trouble along the way. Muscles burning and tempers flaring.

7.Inscribing our thoughts. No one will notice this time capsule after a century…

8.Finally, building the bottom.

9.On the bottom of the newly finished barrel, we add my son's handprint (6th generation heir?). We're counting on you!

10.Water added, ready for soy sauce making. Everything was added in January 2014, and the soy sauce should be ready by fall 2017.
Shodoshima Kioke Craftsmen Revival Project
Kioke Fermentation Culture Summit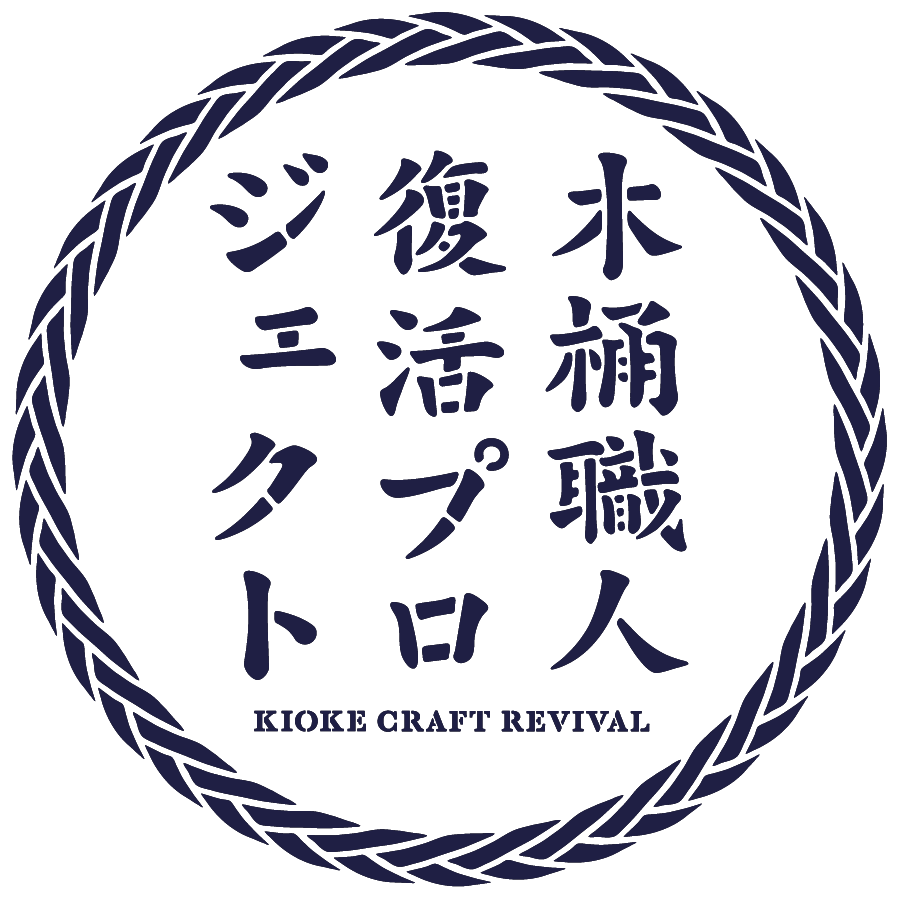 Every January, new barrels are built at Yamaroku Soy Sauce on Shodoshima Island. Producers who use barrel-aging fermentation, restaurant owners, and distributors gather for three days of activity. Barrel making, lectures, business networking. Please join if you're interested.
https://kioke.pro/