Moromi Brewing House Tour
Soy sauce is an everyday ingredient that is, surprisingly, not widely understood. So to become more acquainted with this common condiment, Yamaroku Soy Sauce offers tours of the natural moromi brewing house, a place not normally on view.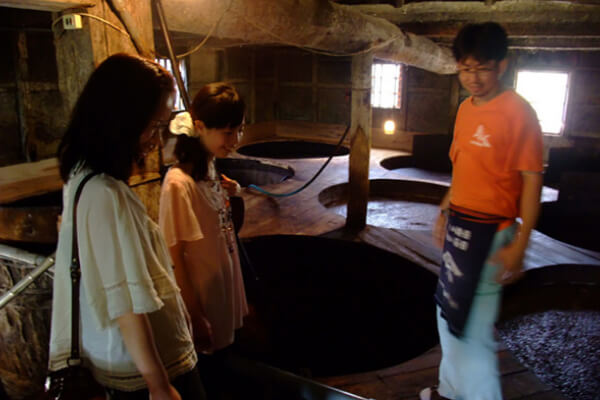 Tours without
appointment are possible
The traditional method of making soy sauce is a process borne of nature's power, slowly nurtured over time. We'll show you the unexpectedly deep world of soy sauce and delve into some of the secrets on how to create delicious soy sauce. The tour is free of charge. No reservations are needed. Walk-up tours are welcome. When you visit Shodoshima Island, be sure to stop by for a visit.
To our Visitors
We do have one request for visitors who tour the moromi brewing house.. Before coming for a tour, do not eat natto (fermented soybean dish). From ages past, it has been forbidden to bring natto into a soy sauce brewery. The natural bacteria and yeasts of the moromi room are surprisingly resistant to heat, dryness, and salt. They are a hardy stock that thrive where other bacteria die. They, however, have one weak point, and that is bacillus natto. So we ask for your understanding and cooperation.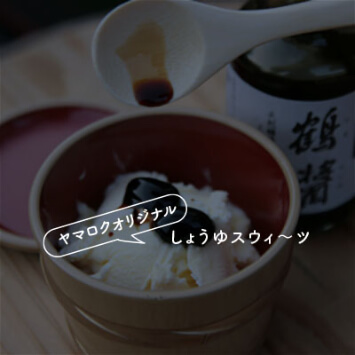 Yamaroku Chaya (Teahouse)
We've also built a teahouse space "Yamaroku Chaya" in a corner of our facility for you to relax after the tour. In addition to a variety of drinks, we also serve grilled rice cakes that accentuate the flavor and aroma of soy sauce, and our original soy sauce dessert. Come and savor a taste and aroma unique to Shodoshima Island.
Access
Ferries from Takamatsu, Himeji, and Okayama's Hinase Ports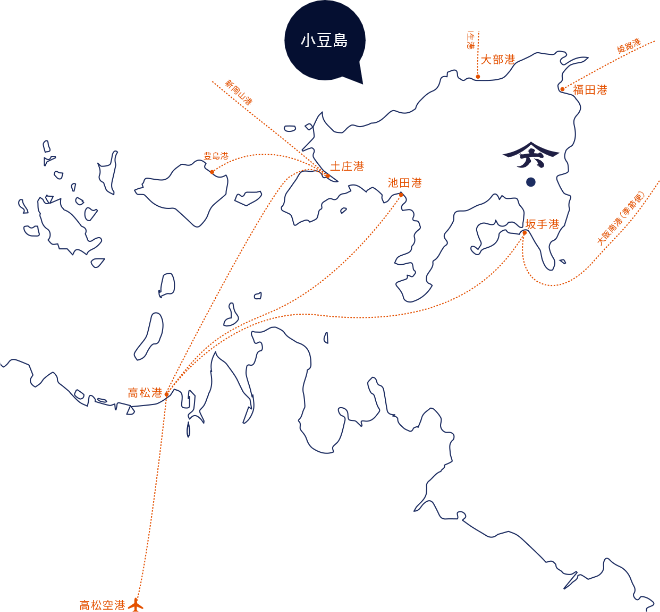 Ferries from Takamatsu, Himeji, and Okayama's Hinase Ports
Yamaroku is on the southeast side of Shodoshima Island.
We're on the foothills of Kankakei Gorge along Uchinomi Bay.
40 min. by bus from Takamatsu Airport to Takamatsu Port
・60 min. by ferry from Takamatsu Port to Tonosho Port, 35 min. by high-speed ferry(Shodoshima Ferry)
・60 min. by ferry from Takamatsu Port to Ikeda Port(Kokusai Ryobi Ferry)
・75 min. by ferry from Takamatsu Port to Sakate Port(Shodoshima Jumbo Ferry)

Ferries from the Kansai area
・3 hr. 10 min. from Kobe Port to Sakate Port(Shodoshima Jumbo Ferry)
・1 hr. 40 min. from Himeji Port to Fukuta Port(Shikoku Ferry)
70 min. from Shin-Okayama Port to Tonosho Port(Shikoku Ferry)
60 min. from Okayama's Hinase Port to Obe Port(Setouchi Kanko Kisen)
1607 Yasuda, Shodoshima-cho, Shozu-gun, Kagawa 761-4411
TEL : 0879-82-0666
・By car
The road narrows near the brewery. There are 4-5 parking spaces in front of and behind the brewery.
・By bus
Shodoshima Olive Bus (Sakate Line・Fukuta Line)
Tonosho Port → Yasudakami (42 min.)
10 min. walk from Yasudakami bus stop
Shodoshima Olive Bus (Tanoura Movie Village)
Sakate Port → Yasuda (8 min.)
Ikeda Port → Yasuda (26 min.)
16 min. walk from Yasuda bus stop
*Buses only come once every few hours, so check the schedule.
Shodoshima Olive Bus:http://www.shodoshima-olive-bus.com/dia.html